We are always looking for ways to elevate your rides' performance, and when it comes to BMW M3 G80 we think we have found some tasteful upgrades that will truly elevate your driving experience. We have recently upgraded the BMW M3 G80, and the results were mind-blowing. As seen in the video above, we added one of our favorites, the ARMYTRIX Valvetronic Exhaust System, and a very sleek Eventuri Carbon Intake System, and tuned the car with our very own VR Tuned ECU Tuning Box Kit to get outstanding performance results seen in the video. We hope you enjoy it!
ARMYTRIX Valvetronic Exhaust System BMW M3 G80 | M4 G82 2020+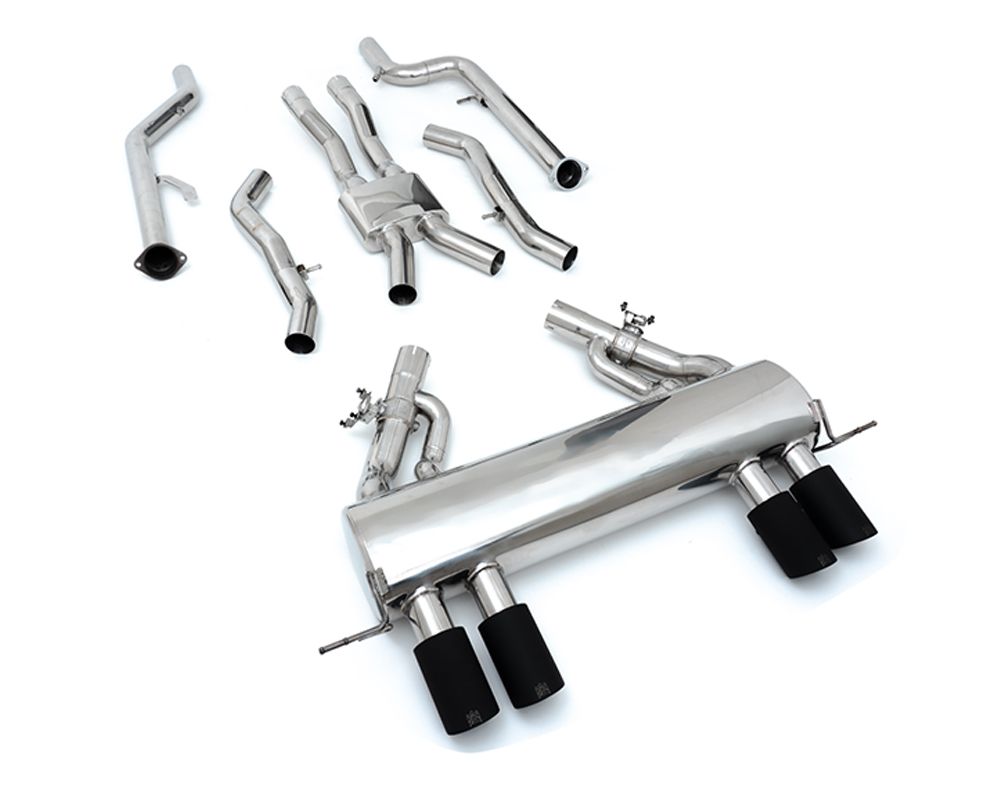 We added this ARMYTRIX exhaust system which is available in our shop for $4,880. With the tips available in different color/finishes to give you more options, this exhaust system will increase power, reduce weight, and improve the sound of your vehicle. Guaranteed to give your vehicle that sporty sound, this precision-made performance system delivers more power, especially in the low and mid-rev range. ARMYTRIX exhaust systems differ from other brands' exhaust by featuring a new innovative system that brings your car to a different level.
Through this system, ARMYTRIX offers car owners a better launch-start without losing backpressure by automatically closing the valves at low rpm. When your car is driving at high speeds, the valves will automatically open to increase airflow which guarantees race sound and performance gain. Car owners can set their own timing for valves to automatically open and close by engine rpm and how deep they press the gas pedal.
Features:
OPF-Delete Front Pipes
Resonated Mid Pipe + Mid Pipe 2
Valvetronic Mufflers
Quad Matte Black Tips

Eventuri Black Carbon Intake System BMW G8X M3 | M4 2021+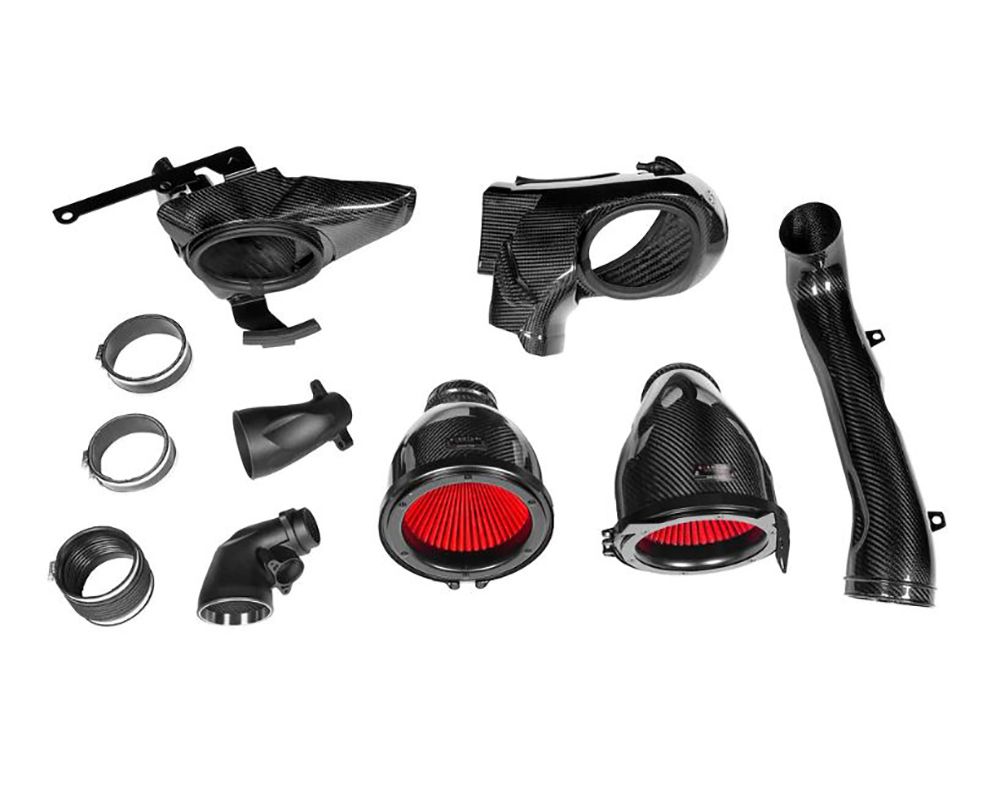 As seen in the video, we also added an intake system to the M3. The Eventuri Black Carbon Intake System that we added is available in our shop for $2,995. This intake truly sets a benchmark for the BMW G8X M3/M4 platform. Eventuri carried out intensive R&D to develop an intake that not only improves on the stock M3/M4 but also is future-proof in its capacity to cater for high-powered builds well in excess of 1000hp.
With the way the system is designed, there is a reduction in pressure loss and an increase in the flow rate. Designers have maximized the usage of the available space to employ 2 custom-made filters with a 40% larger filtration area than stock. These are used in our Patented Venturi housings to smoothly funnel the air to the turbo inlets. The inlets themselves are up to 160% larger in cross-sectional area than stock and are designed with an advanced dimpled inner surface to reduce frictional losses between the flow and the wall boundary.
Features:
Performance Gain: 13-18hp, 12-16ft-lb (Stock Tune)
Turbo Inlet Area Increased up to 160%
Filtration Area Increased up to 40%
The Kit Includes:
2 x Carbon Fiber Patented Venturi Filter Housings
2 x Bespoke High Flow Dry Cone Filters
2 x Carbon Fiber Inlet Ducts
Carbon Fiber Intake Tube
2 Thermoplastic Turbo Inlets
Laser Cut Stainless Steel Brackets
Custom Flexible Hose
CNC Machined Bracket Mounts and Reinforcement Rings
Fitment:
BMW M3 2021+
BMW M4 2021+

VR Tuned ECU Tuning Box Kit V2 BMW M3/M4 Competition G80/G84 503bhp G82 2021+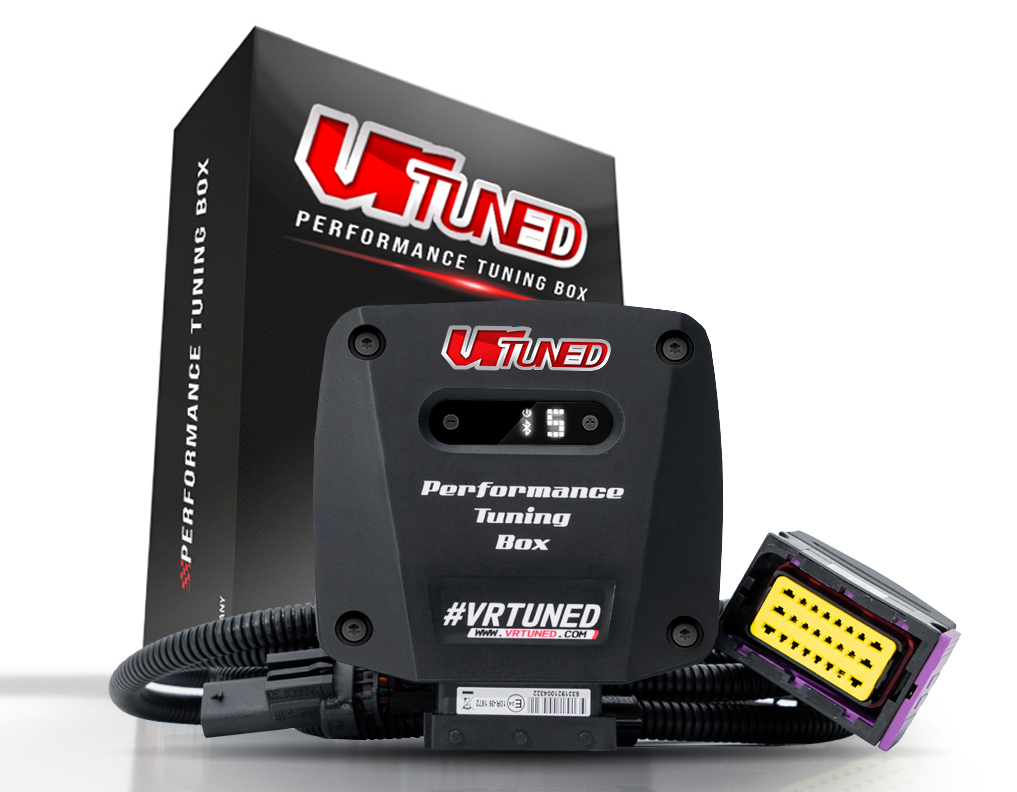 The BMW M3 featured in the video was also tuned using the version 2 tuning box kit from VR Tuned, which is available for $750. Manufactured by VR Tuned, this tuning box kit is a plug-and-play solution that will boost your vehicle's performance like an ECU flash, but without affecting your warranty. By tuning your M3, your engine will gain more power, a quicker throttle response, and increased torque. The VR Tuned ECU Tuning Box Kit gives your BMW M3/M4 (G80/G82) a gain in power from 503bhp to 640bhp, while providing you with additional benefits that your car craves.
Horsepower Ratings:
Stock Power: 503 HP | 479 FT/LBS
Tuned Power: 640 HP | 559 FT/LBS